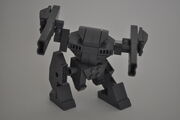 The
T
etrarch-class
I
ncursion safe
G
uard
R
obot-SV3, or TIGR-SV3, is a large combat robot.
The TIGR-SV3 was based on the ED-209 from Robocop, the HK-Tanks and T1s from the Terminator franchise, and the Catapult from MechWarriors. The SV comes from the Lamborghini Murcielago SV, and the 3 is simply Zombiejiger's favorite number. The acronym was created because Zombiejiger wanted it to spell TIGR. :P
Ad blocker interference detected!
Wikia is a free-to-use site that makes money from advertising. We have a modified experience for viewers using ad blockers

Wikia is not accessible if you've made further modifications. Remove the custom ad blocker rule(s) and the page will load as expected.